2021 - 2022 Hunting Regulations
Click image to download all regulations as a single PDF file.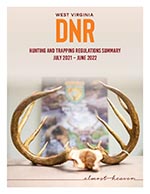 July 2021 - June 2022

This is a large (7MB) file and may take a long time (20 min or longer) to open on a dial-up Internet connection. If you wish, instead, to receive a printed copy, please visit an authorized Hunting License Agent or request a copy from a DNR district office.


(Note: All files are in PDF format. You will need Acrobat Reader to view these files) .